Key Skins - Designer Key Identifiers - 4 Packs of 8
THINGAMABOBS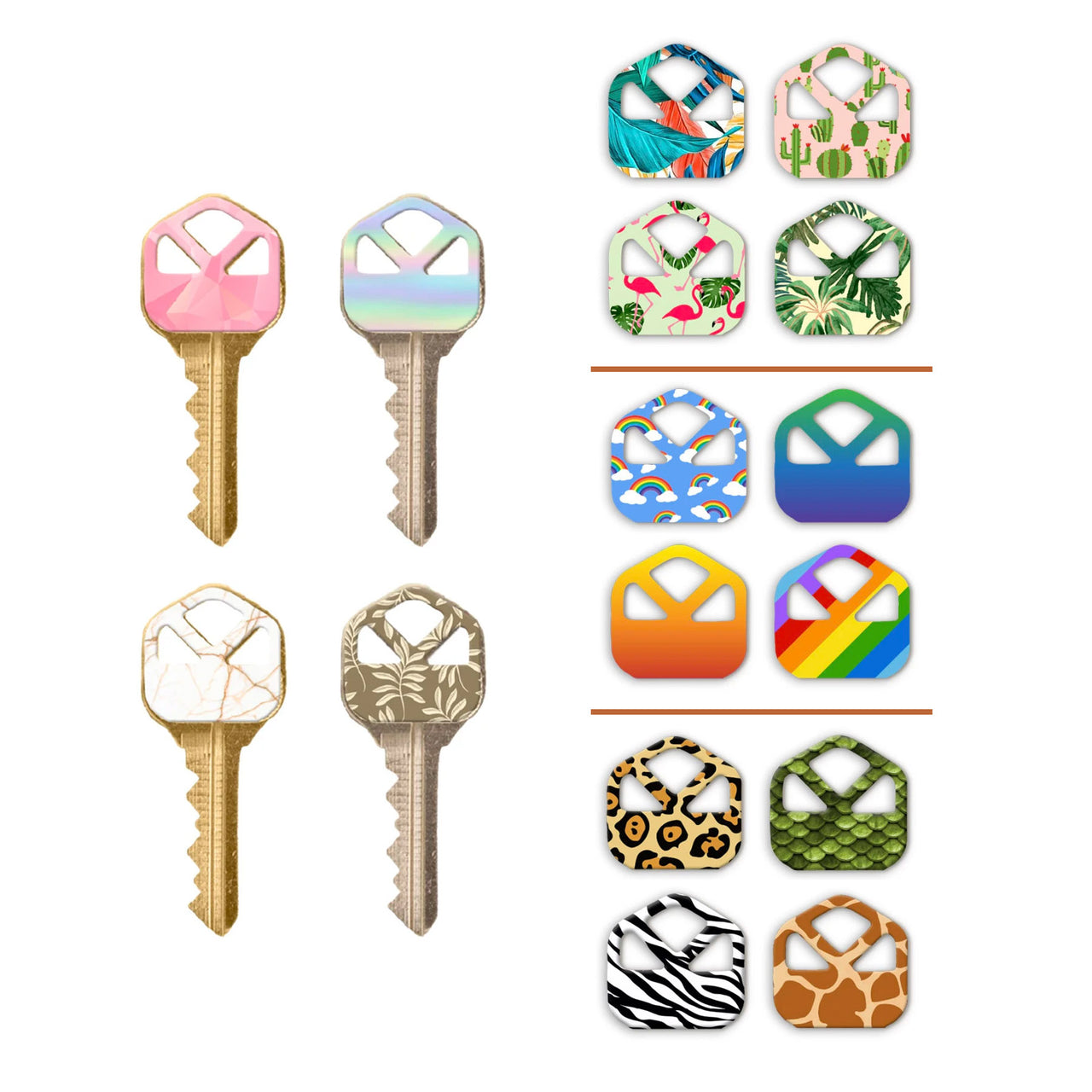 Key Skins - Designer Key Identifiers
Decorate and identify your keys easily with Key Skins! These easy-to-apply stickers come in 16 different designs! A great gift to share with family and friends! Key Skins Key Identifiers allow you to easily identify your keys for home, office, mail, etc. Choose Kwikset or Schlage keyways.

To apply, clean the surface of your keys and stick! Stickers will stay securely in place, but leave no sticky residue behind when removed.
Specs
Choose either Kwikset or Schlage for your order.  Each order comes with 2 stickers in each of the 16 designs.  You will get 32 stickers total in your order.

Key Skins are available in two different keyways, Kwikset and Schlage. Make sure you select the correct one. You can identify which type of key you have by the markings on your key.  The key heads are usually similar to the ones shown below.  If you aren't sure send me a message and ask!
Note: keys are not included.
Kwikset: 13/16″ (W) x 13/16″ (H)
Schlage: 1″ (W) x 13/16″ (H)
Free Shipping
Ships via USPS from San Diego, CA.
Same day shipping on orders before 10am PST Monday - Friday. No tracking information will be provided for these orders.
Return Policy - This item cannot be returned. All sales are final.
WARNING: For CA Residents
Online Shopping You Can Trust
Thingamabobs is based in San Diego, CA. We are real people behind this site, and we care a lot about our customers.  We have a quick response time and treat every customer inquiry and concern individually.  If you have questions about our products, ship time, returns, anything … just send us a message! You can email me directly at
Bob@Thingamabobs.com