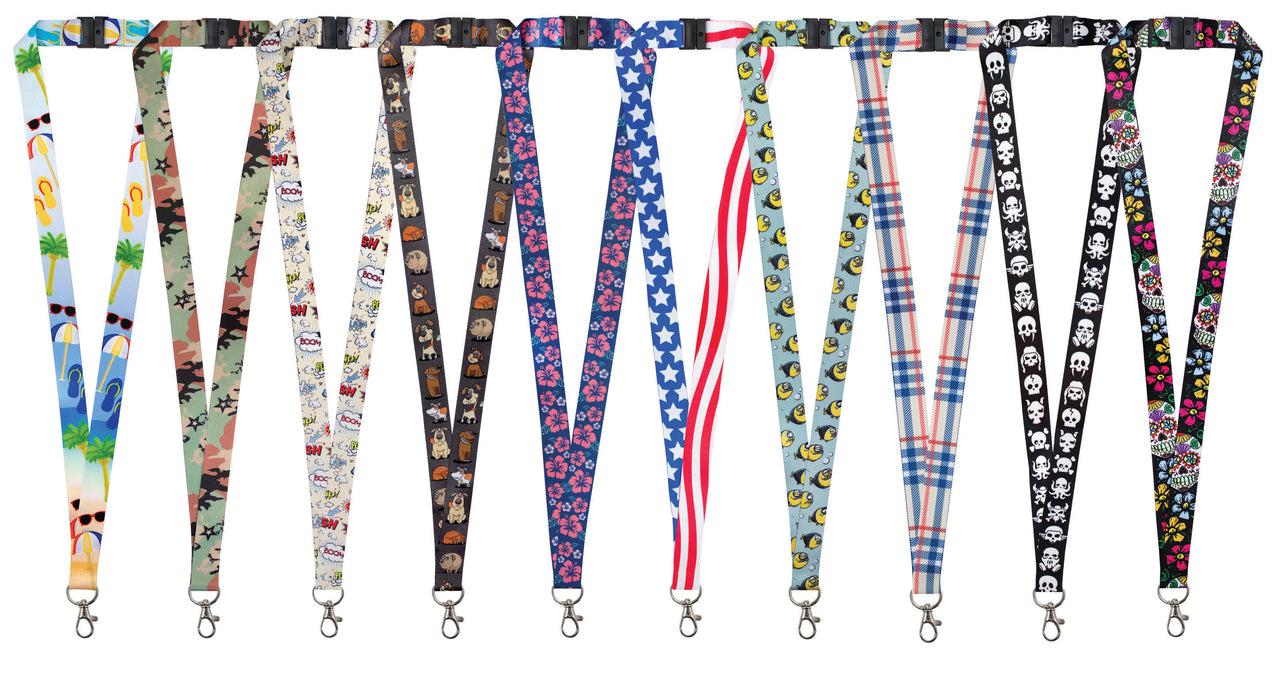 Designer Lanyards - 10 Pack
These designer lanyards easily attach and detach keys with an easy-to-use swivel hook. Also great for badges, masks, touchless door openers, or other small items. Great for kids (or anyone!) to wear around their necks with their mask attached, so they never forget it or drop it. Bright, colorful lanyards also work great as a key chain, so you can easily find your keys in your purse or bag. The lanyards come in 10 fun designs, so there is something for everyone! Buy a set that includes 1 of each design or order a set that includes 10 of your favorite design. Or mix and match a custom order to perfectly suit the needs of your family and friends.
Lanyards are made of lightweight polyester that fits comfortably around the neck. All lanyards include a breakaway feature for added safety, which means if it gets caught on something, the lanyard will break open to prevent choking or other accidents. Ideal for children and workplace safety.
Makes a great gift!
Specs
Choose 1 of each design, 10 of the same design, or message me to mix and match:

1 of Each Design
Beach

Skull
Sugar Skulls
Plaid
Piranhas
Hibiscus
Patriotic
Dogs
Comics
Camo
Dimensions: 17.25" long x .75" wide

Free Shipping
Ships from San Diego, CA via USPS.

Same day shipping on orders before 10am PST Monday - Friday.
WARNING: For CA Residents
Online Shopping You Can Trust
Thingamabobs is based in San Diego, CA. We are real people behind this site, and we care a lot about our customers.  We have a quick response time and treat every customer inquiry and concern individually.  If you have questions about our products, ship time, returns, anything … just send us a message! You can email me directly at
Bob@Thingamabobs.com