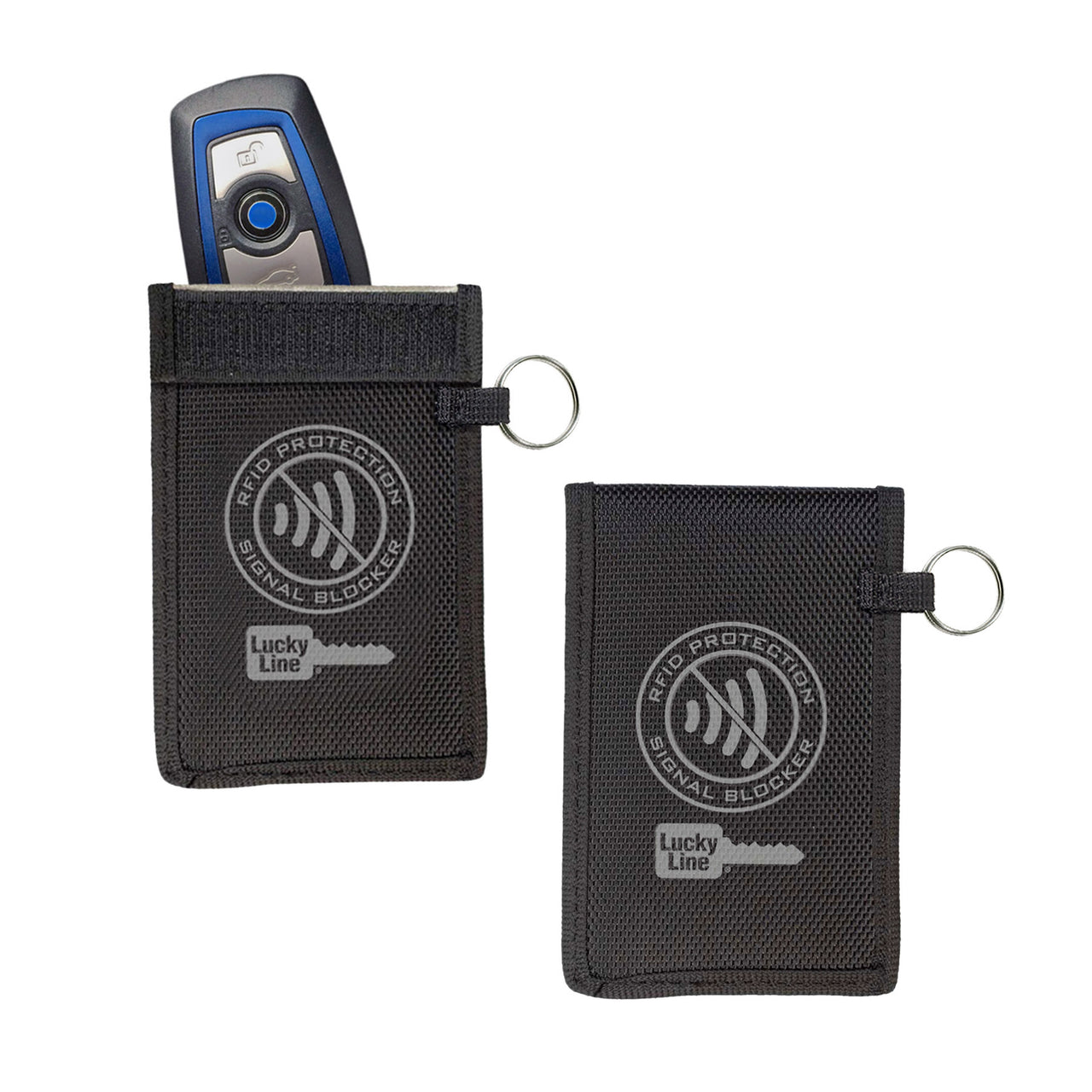 Signal Blocking Key Hider
This Signal Blocking Key Hider is a protective storage pouch that features unique RFID blocking material that prevents the transmission of wireless signals, making this the ideal key hider to hide your spare key. The key hider securely adheres to any surface, so you can safely store your spare key in or on your vehicle.  The signal blocking material also prolongs battery life and protects your key fob by blocking the signal while in your pocket or bag.  This prevents accidental unlocking on vehicle, opening of trunk, or any type of accidental touch. Attach it to your key ring so you can store your smart key fob at home to save battery life when you're not using it.
Buy Multiple and Save:
2 Pack $14.99

4 Pack $27.99
Specs:
Dimensions: 5" x 3.8" x 0.5"
Weight: 1.12oz
Adhesive back allows you to stick the key hider to just about any clean surface.
Shipping: FREE
Ships from San Diego, CA via USPS First Class Mail.
Same day shipping on orders before 10am PST Monday - Friday.
Learn more:
Learn more about RFID technology and why is it important to protect your key fobs and credit cards on our blog: THINGAMABLOG.
Why You Need It, Anti-theft
The RFID blocking material protects your key fob when not in use preserving your battery life and preventing theft. Car thieves within range can use your key fob's wireless signal to steal your car. Place your keys inside the pouch at home to stop them from stealing your signal and keep your car safe.
Read more about how keyless entry cars are stolen here.
The Ultimate Key Hider

The key hider securely adheres to most surfaces using high quality adhesive material and an extra strong hook and loop system, so you can store your spare key either hidden on your vehicle (in the wheel well or undercarriage) or intentionally lock it inside.  This is a great key hider option for surfers and other outdoor enthusiasts.
Newer key fobs feature an anti-lockout function, which prevents you from accidentally locking your keys in your car. Prevent the anti-lockout function for a day outdoors by placing your fob inside the signal blocking pouch and intentionally lock your doors with your keys inside. This keeps expensive key fobs safe from the elements while at the beach, hiking, etc. Be sure you know your entry keypad code to gain access to your vehicle when you return.
Protect Smart Key Fobs
Have you ever walked outside to see that your windows are down or your trunk is open?  Place your smart key fob inside the Signal Blocking Key Hider to block your signal from being transmitted while in your pocket.  Store your key inside the signal blocker whenever it's not in use to prevent an unnecessary signal transmission.  This saves key fob battery life and stops you from accidentally pressing buttons.
Minimalist RFID Wallet
Also use the Signal Blocking Key Hider Pouch to store credit and debit cards in your purse or pocket to prevent thieves with digital readers from electronically accessing your credit card information and stop them from stealing your money.
Style:
Designed with water-resistant stylish oxford fabric. Makes a great minimalist wallet. Available in oxford black.
Our Signal Blocking Key Hider has also been featured in the news!
WARNING: For CA Residents
Online Shopping You Can Trust
Thingamabobs is based in San Diego, CA. We are real people behind this site, and we care a lot about our customers.  We have a quick response time and treat every customer inquiry and concern individually.  If you have questions about our products, ship time, returns, anything … just send us a message! You can email me directly at
Bob@Thingamabobs.com
Item No. 91801