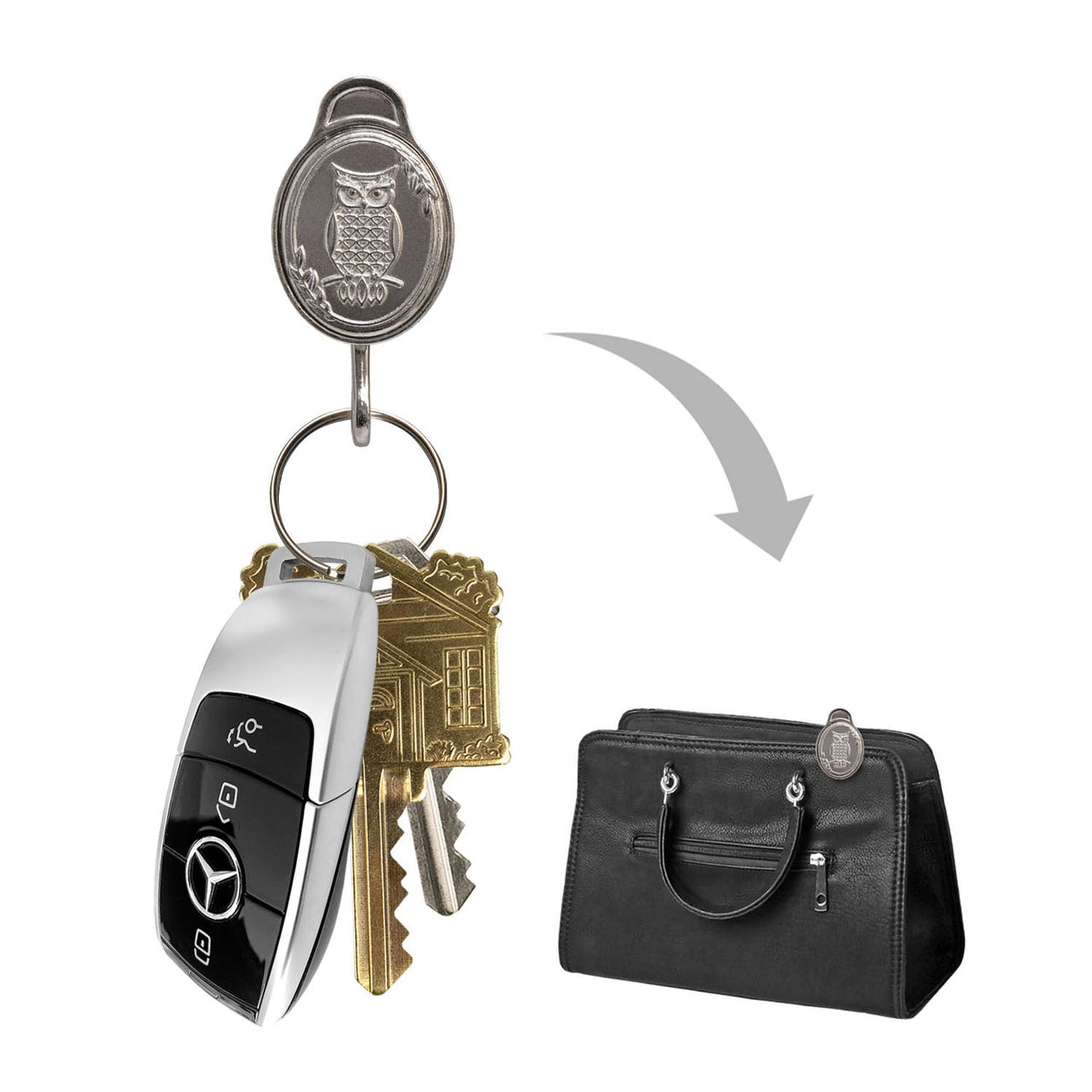 Keychain Purse Clip
Never lose your keys in your purse again!
These exclusively designed Keychain Purse Clips make the perfect accessory, encompassing beauty and functionality all in one! These Charms clip to your handbag, ensure that your keys are always right where you need them. No more rummaging through your purse to find your keys - now they are securely attached to the top of your bag. Easily check if you have your keys before you walk out the door with just a simple glance at your purse and then just grab your bag and go.
Each clip includes a key ring to easily add your keys. The strong, but smooth, clip ensures keys stay safely attached to your purse without damaging your bag. Also great for those who do not use purses as the Charms also attach to backpacks, wallets, or even your pocket.
Each clip design was carefully curated with empowering words in mind and features an elegant sculpted image that serves as a reminder to be your best self. With 6 different designs, there is a Charm for everyone:
Be Wise (Owl).

 

Owls are symbols of fierce intelligence and wisdom. 

"Learn from every mistake, because every experience, particularly your mistakes, are there to teach you and force you into being more who you are." – Oprah
Be Resilient (Sprout). A plant sprout is a symbol of growth and represents new hope and a fresh start. 

"You may not control all the events that happen to you, but you can decide not to be reduced by them." – Maya Angelou
Be Adventurous (Mountains). Mountains are a symbol of divine inspiration and spiritual elevation and represent obstacles and achievement. 

"It is not the mountains we conquer, but ourselves." -Edmund Hillary
Be Compassionate (Mandala). Mandalas symbolize unity and harmony and are considered a symbolic picture of the universe. 

"Compassion is not a relationship between the healer and the wounded. It's a relationship between equals... Compassion becomes real when we recognize our shared humanity." – Pema Chödrön
Be Joyful (Hummingbird). Hummingbirds are symbols of good luck and joy and represent a tireless pursuit for finding sweetness. 

"Spread love everywhere you go. Let no one ever come to you without leaving happier." – Mother Teresa
Be Passionate (Heart). The heart is a popular symbol for love and affection and also represents strong emotions and passions.

"The best and most beautiful things in the world cannot be seen or even touched - they must be felt with the heart." – Helen Keller
Makes a great gift! Each Purse Clip includes a small card describing the meaning behind the design, a special touch to pass along with your gift.
Specs
Designs: Sprout, Mountains, Mandala, Owl, Hummingbird, Heart

Finish: Polished Nickel-Plated
Size: 2-1/8" H x 1" W x 7/8" D

Free Shipping
Ships from San Diego, CA.
Same day shipping on orders before 10am PST Monday - Friday.
WARNING: For CA Residents
Online Shopping You Can Trust
Thingamabobs is based in San Diego, CA. We are real people behind this site, and we care a lot about our customers.  We have a quick response time and treat every customer inquiry and concern individually.  If you have questions about our products, ship time, returns, anything … just send us a message! You can email me directly at
Bob@Thingamabobs.com
Item No. 492-499