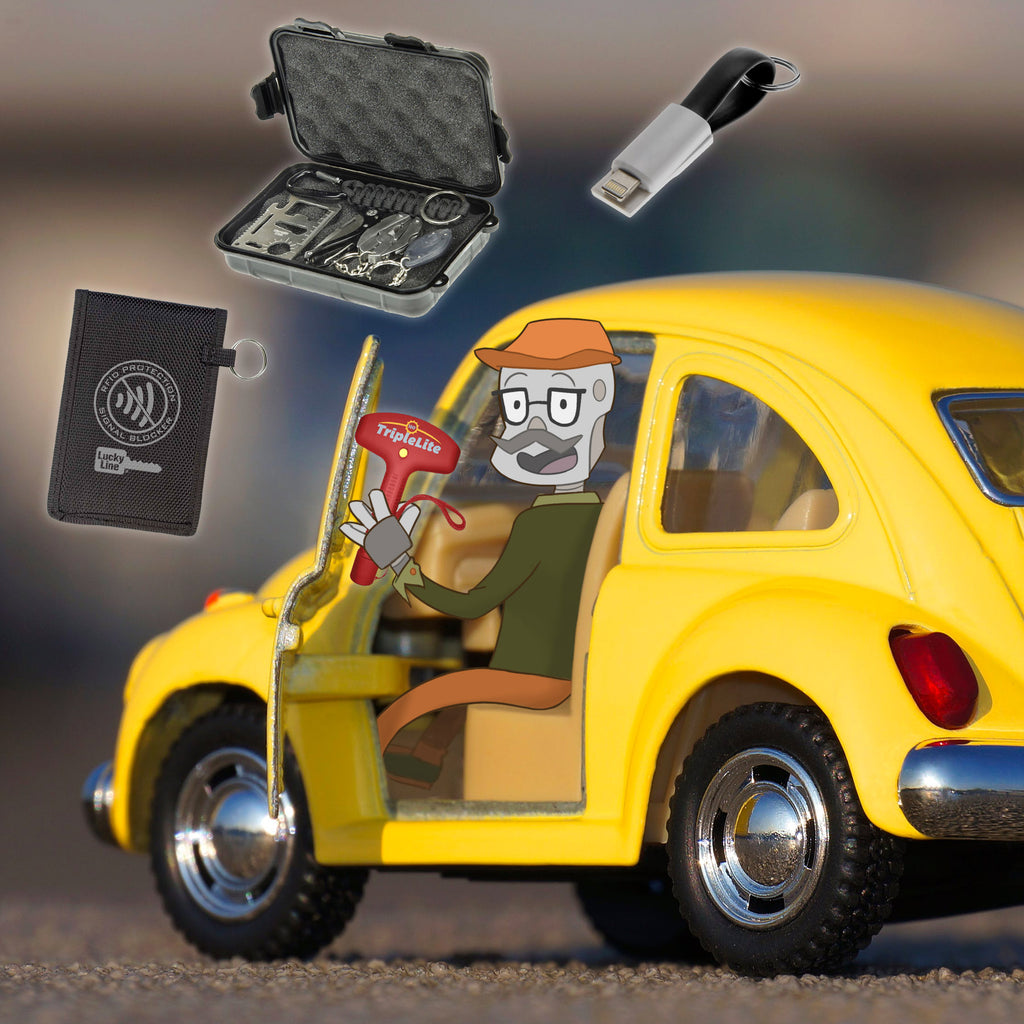 10 Things You Should Keep in Your Car
I reached out to the most reliable people I know for more information on the subject of "what to keep in my car" … DADS.  I mean, if your dad doesn't buy you a car safety kit of some kind when you learn to drive, is he really even your dad?  So after talking to all the dads I know on the matter, I came up with a pretty sweet list of items you should keep in your car in case of an emergency.  Some are obvious, some you hopefully will never need, and some you might be surprised by!
1. Jumper Cables
This is pretty much a staple in any car safety kit you can buy on the market.  These are useful for when your battery dies, and you are stranded somewhere.  The best part about having jumper cables is they can be useful to you or a friend …  maybe even a stranger that you're willing to help out.  They'll help give your car a boost so you can get on your way, and hopefully replace your car battery soon.
Pro status: also have a portable generator or standalone power source in your car, so you can jump your car all on your own.  Basic jumper cables need another car, with a working battery, but with a generator you can do it on your own.
2. Tire Pressure Gauge
Total dad tool!  Some dads even carry these on their key chains! The tire gauge is very helpful when you suspect your tire pressure is low or need to fill up your tires.  They are cheap, simple to use, and last almost forever.
3. Pair of Work Gloves
Work gloves can have tons of uses, and they work great to keep your hands warm if you find yourself in an icy situation.  They can be used to help with repairs, aid in putting on snow chains, or any other grippy-hand protection you might need.
4. First Aid Kit
It doesn't have to be a full on hospital grade first aid kit, something small with bandaids, gauze, a blanket and alcohol wipes should do the trick.  You want to be able to treat small scrapes, and keep yourself warm until help comes if you are in an emergency.
5. Flash Light
A staple in any emergency kit.  Having a flashlight can help you signal for help, get attention, and most of all help you repair and see in the dark.
The TripleLite is a great tool.  It's small but mighty.  This revolutionary flashlight design eliminates the standard back and forth motion needed with old-fashioned flashlights and illuminates your entire path with a wide, 180 degree beam of light.
6. Charging Cable and Power Bank
Most people have a charging cable in their car these days.  However, if you were stranded and your car battery was dead, do you have a way to charge your phone?  Keeping a small power bank in your car for emergencies is a must these days!  Having a cell phone can literally save you life … as long as it's charged.
The Micro Charging Cable and Portable Charging Kit are great items to have!
7. Multi-Tool
Multi-tools are great to have handy even outside of your car.  You never know when you might need a screwdriver, a wrench, or even a bottle opener.
Primo 12-in-1 this is my go-to multi-tool. As the name states, Primo offers 12 functions in just 1 tool!  Made of stainless steel, this device serves as a screwdriver, bottle opener, or wire stripper, just to name a few.
The EDC Kit is also great if you want more options.
8. Seat Belt Ripper and Glass Breaker
This is a big one!  Choose a tool that you can keep on your key chain or in your center console.  If you are stuck in your car, you need to be able to reach this tool so you can set yourself free.  There are many ways this tool can be used, the best is in the unfortunate instance your car is taking on water.  Whether it's a flood, or in a large body of water, you need to get out fast.  Simply rip the seatbelt off, and break the window to allow yourself to climb out safely before the car is submerged.
9. Reflective Cones
One of the most dangerous places you can be is on the shoulder.  Having reflective, or even better, light-up cones on the main roadway will help alert other drivers to move over.  While we're on the subject, if you must pull over to the shoulder, make sure you stay inside your vehicle.  Do not stand outside of the vehicle, this puts you at risk of getting hit.
10. Spare key
Even the most careful, most meticulous, lose their key every once in a while! So it's important to always have a spare key … and know where it is!  There are many ways you can hide your spare key, whether it's inside your house or inside your vehicle.
Signal Blocking Key Hider is a great option for hiding a spare key in or on your vehicle.
Check out all of the Car Safety Items I sell in my store here.
Stay safe out there friends!
- Bob Thingamabobs