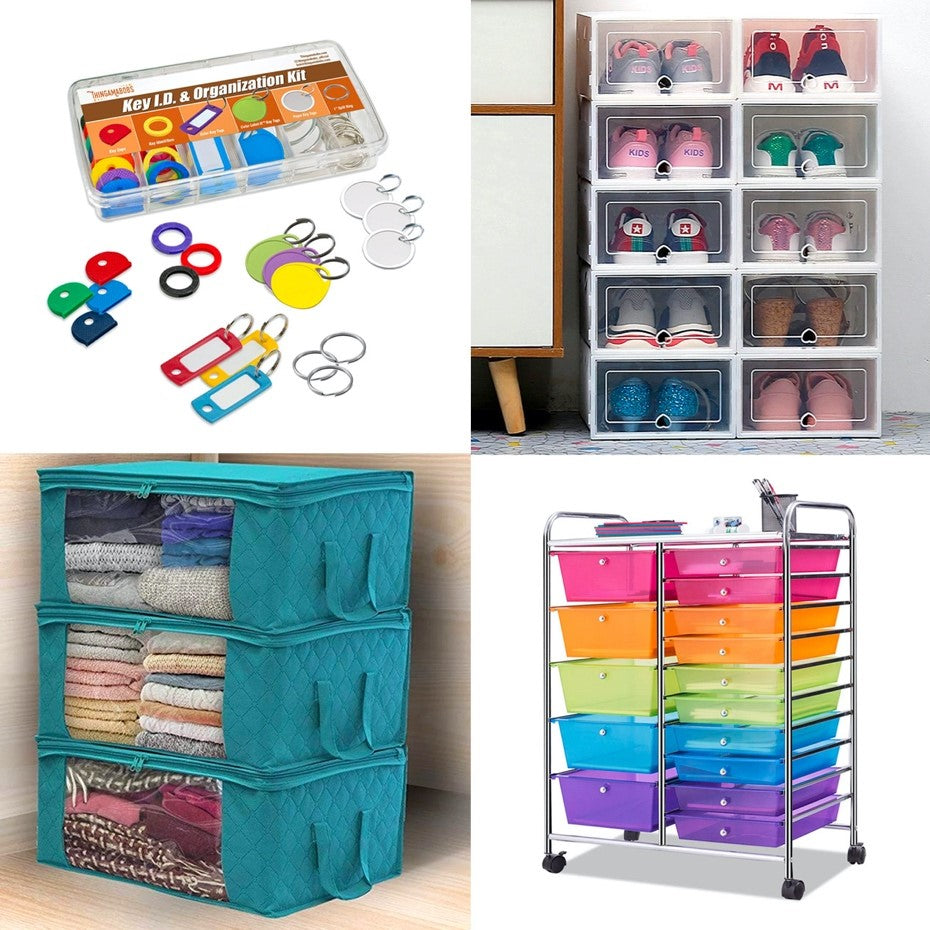 My Favorite Organization Tips and People!
Organization helps you store your belongings in a way that allows you to quickly find things when you need them.  When you take organization a step further, it also allows you to SEE all your belongings, so you don't forget the things you have.  This is helpful in spaces where items can easily get pushed to the back to never be seen again, like large pantries, dresser drawers, and hall closets. Below are some of my top organization tips, products I love, and my favorite organizers!
The Basics
Only keep items that fall into one of these three categories. If they don't make you happy, make you money, or are things you use … toss them out.

Does it make you happy?
Does it make you money?
Do you use it?

Know what you have. A box of miscellaneous items is not a box you need to keep in your home. Figure out what's in that box and find a place for all those items.

If you need to store items, categorize them and label them so they are easy to find. Example, Christmas Decorations, sentimental baby items, year books, etc.

Proper storage is very important! If you have items you need to get to quickly, store them in open containers that are either in a drawer or closet you can easily access.  If you're storing items that you only get to once a year or so, label them clearly and store them in a sealed container for protection from heat and critters (if it's in the garage).

If you often forget what you have, store your items in clear containers so it's easy to see. This helps prevent you from buying things you already have.
For clothing, fold it in a way that you can see all the items in your drawer, I like to call this file folding. This way you don't forget about those t-shirts at the bottom, you can see them all when you open your drawer.
Create stations for yourself. If you find that you have a lot of mail piling up on your counter, create a filing system for you to organize your mail.  Instead of papers stacked up, you can file those papers by bills, important documents, and things you want to read later. Same goes for a morning or night routine, create a tidy station with all the items you use each morning and night so you know what you have and can get to it easily, like a skin care tower.  This helps save counter space in your bathroom too!

Decorate! If you have a space in your house that is constantly cluttered, no matter how often you clean it, try adding some décor to that area.  When you have a space that looks pretty, that you're proud of, you are less likely to "junk it up".

If you have a table or chair that is not being used other than to collect items or clothing, get rid of it! Example, you have a kitchen table that you don't sit at but is constantly full of mail or a chair in your bedroom that you always throw clothes on, remove them from that space.  Either find a new place to put them or donate them.
Products I love
Skin Care Tower - easily store your skin care and makeup on the counter in a neat, nice looking way!
Stackable Acrylic Food Storage - looks beautiful in your pantry and now you can see how much of everything you have.
Key Tag Racks - we love a ROYGBIV moment, these help you label and store commonly used keys.
Key ID and Organization Kit - organize the keys on your key ring so you are not fumbling around looking for the correct key.
Car Seat Organizer - great for kids!  Keeps items within reach in a tidy way.
Colorful Rolling Storage Cart - another great one for kids, and a ROYGBIV moment.  Roll it in and out of the way depending on your needs.
Fabric Clothing Storage Bags - Stores clothes that are out of season, but has a clear space so you can see what's inside.
Kitchen Spice Rack - have all your spices in eyesight and create more cabinet space with them all on the door.
Stackable Shoe Storage Boxes - a great way to store shoes, keeps them nicer looking, and you can see them all through the clear door.
Organizers I love to follow
I hope this helps you get in the organization mood! Let me know some of your favorite organizing tips and people to follow!