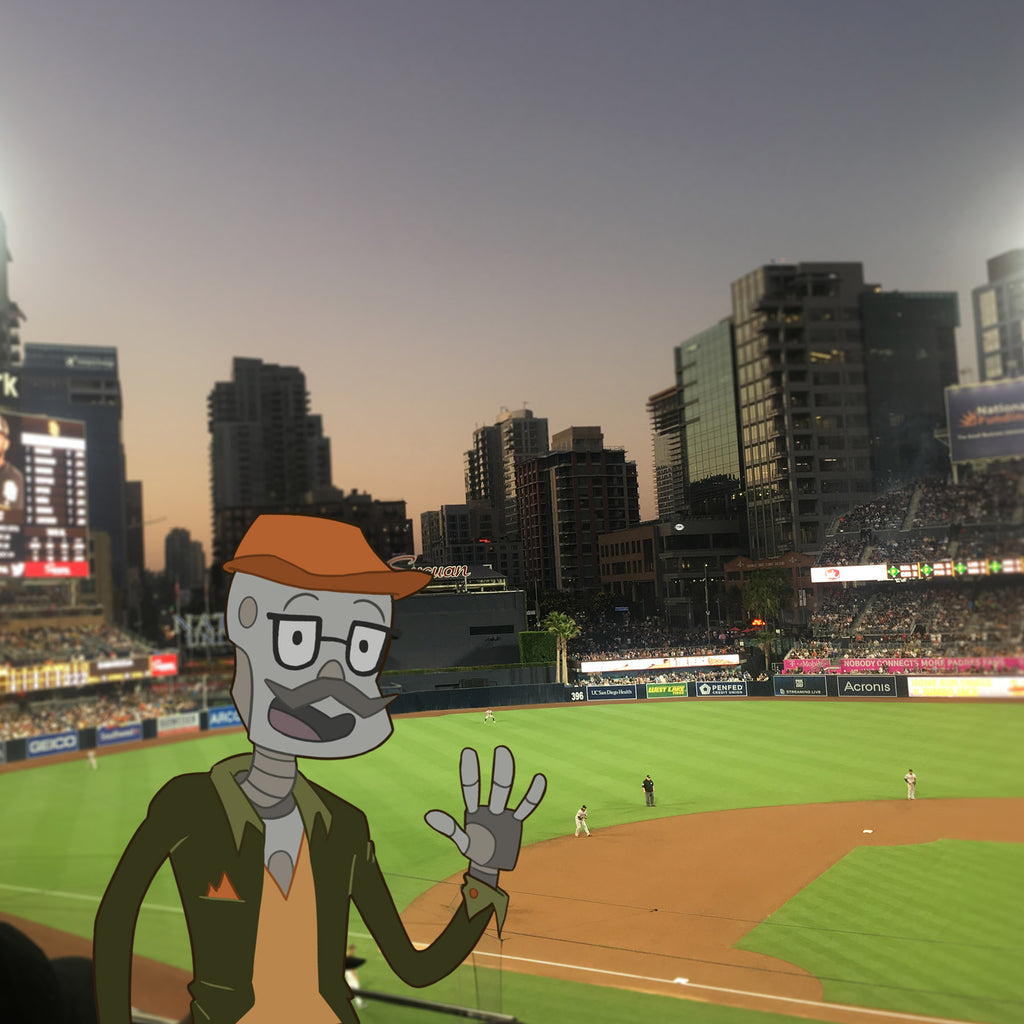 Petco Park is not your average ballpark.  It brings all the best food and beer of San Diego to one spot, and it's right in the middle of downtown San Diego.  Since I love craft beer, I made sure to check out Padres Beerfest last Friday.  If you missed it, not to worry, they're having another one on August 23rd.
It's not always easy getting down to the field, and with so many great things, it's hard to decide what to do first once you get to the park.  Here are my top tips for buying tickets, parking, eating, and having the best day ever at Petco Park! Go Padres!
Tickets
Costco: The best deal I've seen out there … unless you have a friend who likes to give away their season tickets (can they be my friend too?). At Costco you can get 2 Toyota Terrace tickets for $69.99, which is pretty much like buying 2 tickets for the price of one!  I love sitting in Toyota Terrace because you get a great view of the field, people bring the food to you, and you might even catch a foul ball!
Low Cost: The Park at the Park Pass is the lowest price admission ticket. This is just entry into the park, you don't have a seat for the game.  However, there is a really nice grassy hill in the outfield you can sit on and even watch the game on the jumbo screen.  This is a great option for families, especially on Sundays when they have kidfest, because there's always activities for the kids in the park area.  You can only purchase these passes 2 weeks before the game, and they tend to sell out.  Prices start at $15 depending on demand.
Petco Park Parking
Public Transit: For the lowest cost, I highly suggest taking the Trolley!  You can park at the Old Town station for free.  It's a pretty big lot, so even for big events you shouldn't have any trouble parking there.  The best part is, $5 gets you a day pass, and you're just a handful of stops away from Petco Park.  It's a pretty sweet ride through downtown also!
Low cost parking lot: If public transportation isn't for you and you don't mind walking, I suggest parking in Park-it on Market parking garage.  It's located on Market St. between 5th and 6th Ave.  This lot fills up quickly, so it's a great option if you can get to the game a bit early. Cost ranges from $10-20.
Convenience: For close parking, if you don't mind paying around $30, I suggest the Padre Parkade just before J St between 10th and 11th (entrance is on 10th).  It's really nice and super close to the park. It's also easy to get out of, you exit on 11th which takes you right to the freeway.
Petco Park Food
My Favorite: Hands down my favorite place to eat at Petco Park is Lucha Libre! One day I am going to go to their restaurant and reserve the Champions Booth! Their Surfin' California burrito is possibly the best burrito I ever ate. Look for the pink stands throughout Field Level and Toyota Terrace.
The Classic: One of the most classic foods to get at Petco Park are the Garlic Fries from Gaglione Brothers!  You can smell them from the minute you walk into the park. Garlic fries are available in multiple places throughout the park, Field Level, Park in the Park stand, and upper Deck.
Dessert: Baked Bear calls themselves the local ice cream sandwich heaven, and they're not wrong!  The ice cream is smooth and the cookies are so soft! They're located in Field Level by section 124 … kind of tucked away.  Usually there's a long line, but if you get there before the game and have dessert first you won't wait too long! They almost always run out of cookies before the game ends, another reason to eat dessert first!
Honorable Mentions: You really can't go wrong with the food at Petco Park, even the hotdogs are great! I also want to mention some of my favorites in case you need some inspiration:
Phil's BBQ
Hodads Burgers (get the onion rings!)
Board & Brew Sandwiches & Wraps
Beerfest:
Beerfest is a great way to experience lots of local San Diego Craft breweries in one place!  When you walk in, make sure you stop by the Friar Funds booth first to purchase your Friar Funds before standing in line, or if you have cash find someone walking around.  The only way to pay for the beers at beerfest is with Friar Funds.  I suggest getting $20-$50 worth because they're not just good for beer, you can use them just like cash to buy food and merchandise throughout the park.  Even if you don't spend all of your Friar Funds that night, you can use them until the end of the season! Which gives you a reason to come back!
Watching the Padres play at Petco Park is one of my favorite weekend activities!  If you have more useful tips or tricks for enjoying the game, leave a comment below!
- Bob Thingamabobs
I also always have to visit Mr. Padre every time I go to the park.