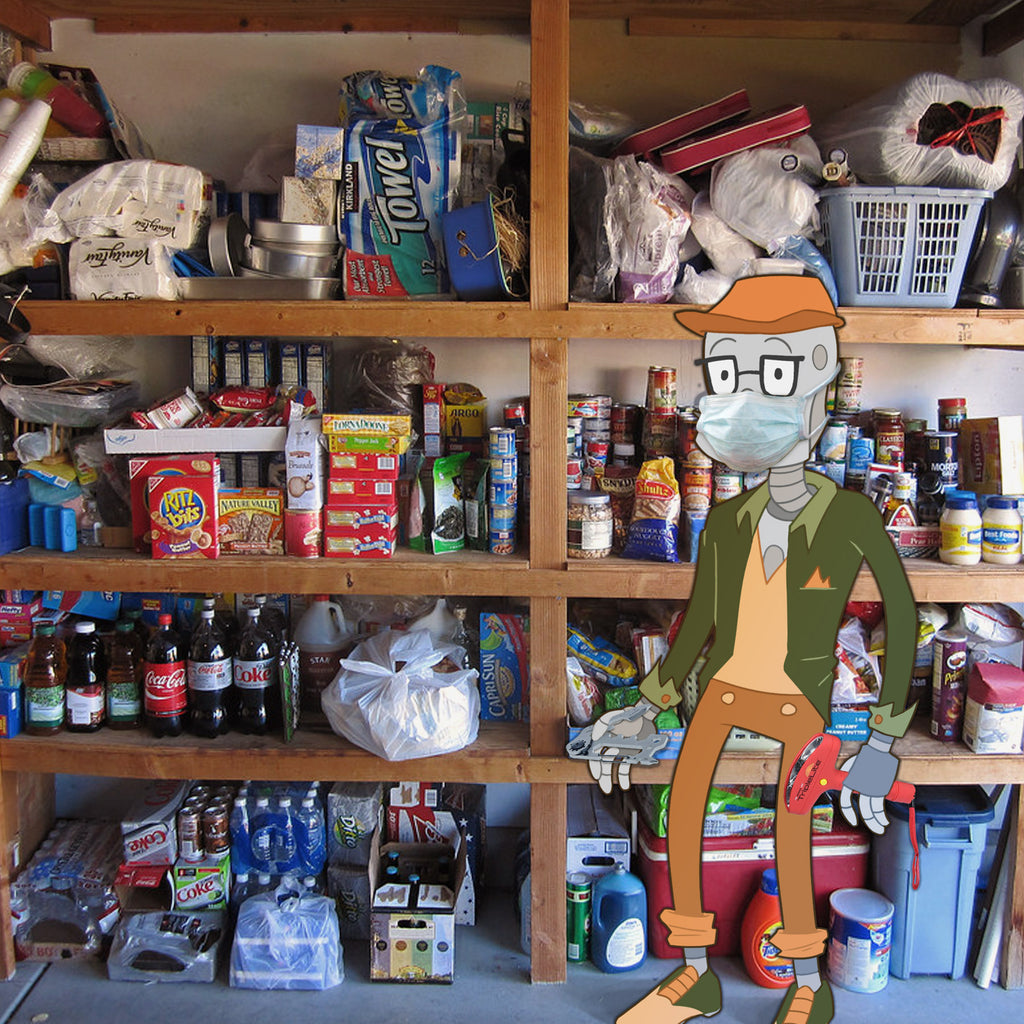 It is essential to have some type of an emergency preparedness kit in your home, at work, and even in your car. Earthquakes, hurricanes, and even power outages are things that we cannot always predict.  Weather disasters can happen at any time, and it's important you are prepared.  Even a robot like me has an emergency preparedness kit at home!
Always Be Prepared
I don't mean you need to build an underground shelter and have enough food and water to last you and your family for an entire year … but if you do that's super neat! Send me pics! However, you can't depend on people to be able to come save you right after a major natural disaster strikes.  Not only will there be a lot of people in need, it also takes time to get organized and plan a rescue for thousands of people.  I suggest being prepared enough to be self-sufficient for 14 days after a major emergency, while you wait for help to come. I would also create a pack that you can take in the event of an evacuation with a 3 day supply of everything you need.
The Emergency Kit Basics:
Water: 1 gallon per person per day (a 3-14 day supply)
Food: nonperishable and easy to prepare (remember you probably won't have use of your stove or microwave).

Ready to eat canned foods like fruit, vegetables, and meats like tuna
Manual can opener
Protein bars
Peanut butter
Dry cereal
Consider investing in emergency food kits from Amazon, Costco or Sam's Club

Flashlight
Extra batteries
First aid kit
Multi-purpose tools (wrench, pliers, knife)
Whistle or flares to call attention to your location
Personal hygiene and sanitation items (poop happens even in an emergency)
Cell phone and portable chargers (make sure they're charged up)
Extra cash
Emergency Blanket
Maps of the area
Important Items to Always Have at Home:
Make sure these items are easily accessible in an emergency.
Surgical masks
Matches
Rain gear
Work gloves
Sturdy shoes, waterproof is best
Duct tape
Plastic sheeting
Scissors
Sleeping bags and blankets, use mylar sleeping bags to help keep you warm
Medications
Important family documents
Household bleach
Paper plates, cups, plastic utensils and paper towels
Where to store your kit?
Home: The most important place to have your emergency items is somewhere safe in your home.  Hopefully this is where you spend most of your time.  Consider storing everything in a cool, dry place that is up high in case of a flood.
Work: Disasters can happen even while at work.  Make sure you have the essentials like food, water, and medications to last you for at least 24 hours.  A comfortable pair of walking shoes is also recommended.  You can keep everything in a backpack so you can grab it quickly in an emergency.
Car: This is a great place to keep extra food and water in case you are stranded. Make sure you also have emergency tools and supplies. This can be useful in any emergency, not just a natural disaster.
Annual Kit Campout!
It's important to review and renew your emergency kit every year. Your needs might change and it's important to rotate food items out … everything has a shelf life. Make a night of it!
Once a year you can have a backyard campout with the items in your emergency preparedness kit!  Make sure all your tools are working properly and are fully charged, consume food before it goes bad so you can replace it with fresh items, and have fun! Notice there's something you need on your campout that isn't in the kit? This is a great time to add that item to your list of essentials! Just make sure you replace all of the items so your kit is always fully stocked with the essentials.
Hopefully an annual backyard campout is the only use your emergency kit will get, but it's important to always be prepared.  Better to have an emergency kit and not need one, than to need it and not have one!
-Bob Thingamabobs

 

 

 
Items featured in this post: