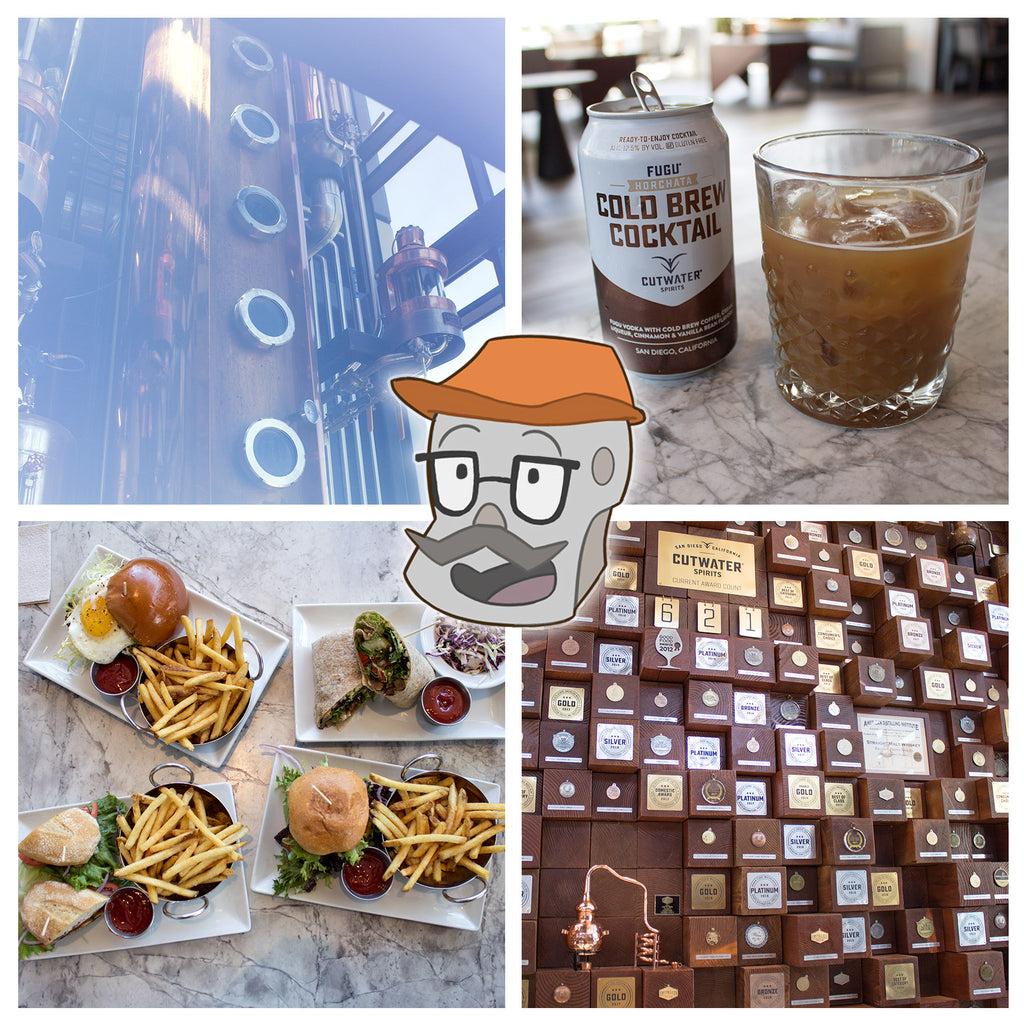 Have you seen this place? It's insane! I love all the gadgets they have out front, and the canned cocktails really grease my gears on the weekends! Cutwater Spirits is a local distillery just around the corner from where I was made and live!  Did you know: Cutwater was started by the founders of Ballast Point, one of the most popular craft breweries in San Diego and now the country! How cool is that?  The 50,000 square foot distillery off Miramar Road also has an amazing tasting room and kitchen.  It's so delicious my coworkers and I often stop by for lunch!
We also love coming by for happy hour and trying the different canned cocktails, which are seriously really good! So I decided to come up with a list of some of our favorite Cutwater Canned Cocktails and what they say about you.  If you don't have a favorite canned cocktail yet, I suggest you hit up Cutwater Happy Hour and try them out for $4! Tell them Bob Thingamabobs sent you ... they have no idea who I am but it will be funny!
What Your Favorite Cutwater Canned Cocktail Says About You

 
Fugu Vodka Soda:
You are conscious about your health but also like to have a good time. Who says you can't be healthy and drink?!
You love to be able to enjoy your night without feeling guilty the next day.
You say things like "This is the best day ever!"
Most likely to order avocado toast tomorrow morning … with a bloody mary.
 Also loves: hard seltzer, white wine, and at least 100oz of water a day.

 
Tequila Margarita:
You are the life of the party!
You're not afraid to venture away from your group to make new friends in line for the bathroom or at the bar, and you dance like no one is watching.
You couldn't care less about what other people think, but everyone loves you.
You say things like "Turn it up, I love this song!"
 Also loves: tequila shots and starting "the wave" at baseball games.

 
Black Skimmer Whiskey Highball:
You are hands down the classiest of all your friends.
Like Ron Burgundy, you too have many leather bound books.
You prefer sitting in the corner sipping your drink over dancing or speaking to anyone. Actually, you would rather be home with your leather bound books.
You say things like "Quality over quantity" to explain why you never go out and only have one drink when you do.
Also loves: pinot noir and talking about an expensive whiskey collection that will never be touched ... unless it's a special occasion (which is also NEVER).

 
Old Grove Gin & Tonic:
You're very career oriented and probably the most successful of your friends.
You enjoy drinking G&T's at work lunches, brunch with friends, or after work happy hours.
You drink well with others, but you're also saving for retirement … and need to be home by 10pm.
You say things like "My 5 year plan" and actually have a 5-10-20 year plan.
 Also loves: gin martinis and excel spreadsheets.

 
Three Sheets Rum & Cola:
You're either still in college or wish you were.
You love to have fun and are everyone's go-to for a "what's going on tonight".
People love having you around and you're known to never miss out on a good time.
You say things like "Yes" … to literally anything!
 Also loves: fireball shots and fist pumping.

 
Bloody Mary:
Vodka Sodas younger and drunker sister, sometimes you overdo it, but we're not mad at you.
Brunch is your favorite part of the weekend.
You're the back-to-back Fantasy Football League Champion.
You say things like "Sunday Funday!"
 Also loves: bottomless mimosas and naps.

 
Fugu Horchata Cold Brew:
You were born and raised somewhere super trendy with lots of coffee shops like San Diego, Seattle, or Portland, OR.
You are the hipster … I mean trendsetter of all your friends.
You make coffee at home every morning in your expensive French Press.
You say things like "I am not a hipster!"
 Also loves: black coffee, craft beer, and Fall.
Which Canned Cocktail is Your Favorite?
Mine is obviously the Horchata Cold Brew! Comment on my Instagram what your favorite canned cocktail is, and if my assumptions were right or wrong!
PRO TIP:
Coworkers Lunch:
Cutwater offers a great lunch special for those who work nearby.  For just $12 you get a sandwich burger or wrap, a side, and your choice of a fountain drink or canned cocktail.  Can't beat that! My favorite is the grilled chicken sandwich with fries and an iced tea … or Horchata Cold Brew if it's Friday after work!
Their Happy Hour menu is available Sunday – Thursday 3:30pm – 6pm and offers all of their 14 canned cocktails for just $4! What's your favorite Cutwater Spirits Canned Cocktail?
Check out Cutwater's canned cocktail list here.
Drink responsibly my friends!
- Bob Thingamabobs