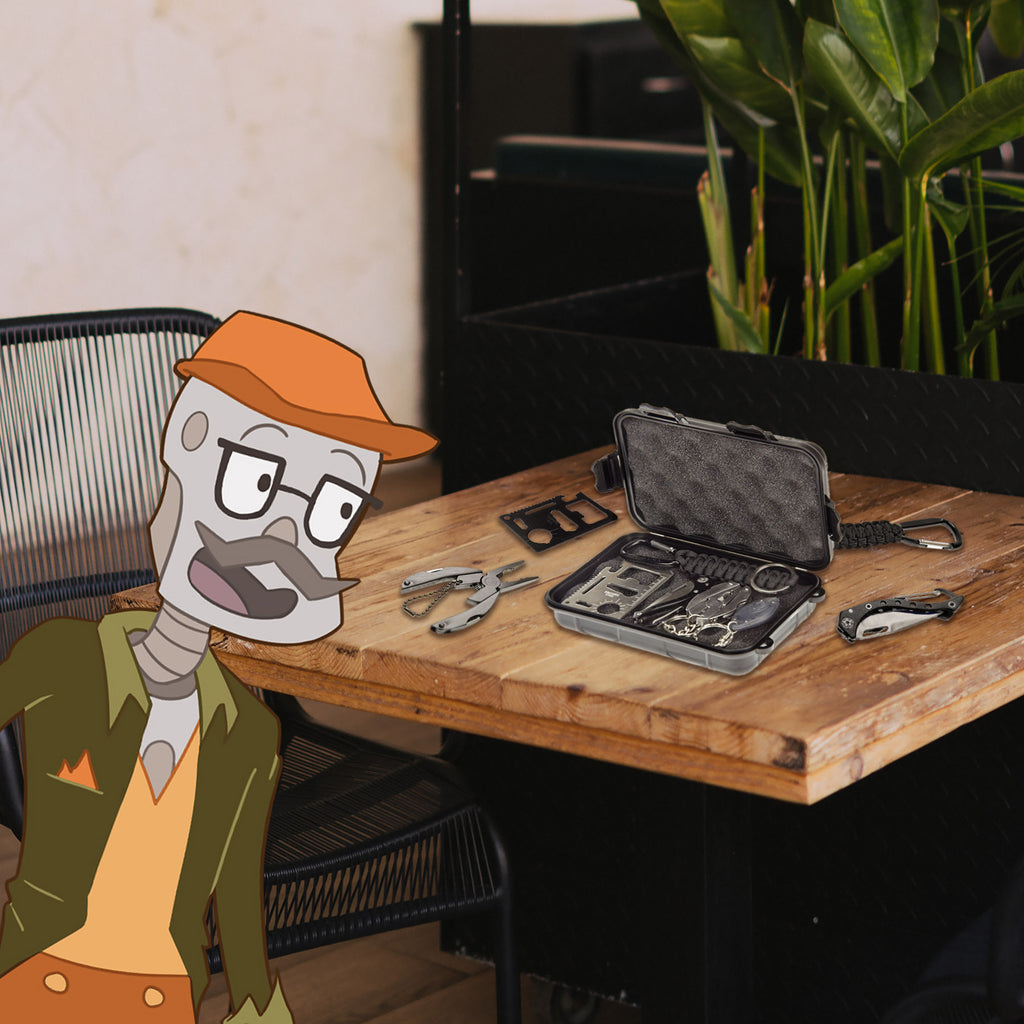 Although the majority of EDC enthusiasts online are men, women practically invented the idea of everyday carry … it's called a purse! I'm not sure when the term "Everyday Carry" was actually born, but this is something that women have been doing for a long time.  I consulted all of the ladies in the office to come up with a post about how EDC might be different for most women, and a list of items every woman should consider carrying everyday … even if she doesn't carry a handbag.

Pictured Above: EDC Kit
What is EDC?
EDC items are useful tools used to solve everyday problems.  The notion behind everyday carry is to always be prepared.  Whether you're opening birthday presents at the park, camping, or get stranded in your car … EDC items are there to help you get through problems small and large. The tools you have in your EDC are unique to you and the needs you have in your life.  For some it's one simple tactical pen, for others it's a bag full of items. Part of the fun is collecting items and putting them into your everyday carry routine.
The Perfect Everyday Carry Kit: The Handbag
Most women have a handbag or backpack of some kind they carry with them everywhere.  In that bag are the essentials they need; like a wallet, keys, and other small necessities.  Functional pockets are not very common in women's clothing, which is where the use of a handbag comes in.  The great part about a handbag is the capacity, even small handbags can fit more than pockets!
EDC Tools:
Have you ever used a shoe as a hammer or a butter knife as a screwdriver?? If so, it's probably because they are items you already had handy.  What works even better is having a credit card sized multi-tool in your wallet, or a 12-in-1 Primo Tool in your desk drawer.  Here's a list of EDC tools everyone should consider having in there handbag, car, office and/or in the house:
Screwdriver

Wrench set

Pliers

Knife and/or scissors

Ruler

Bottle Opener

Wire stripper

Saw blade

Can opener

Ancillary Direction Indicator

Paracord

Flashlight
This might seem like a lot to carry around in your handbag, but all of these tools come all in one as a wallet multi-tool, primo multi-tool or in an EDC kit, and they're lightweight!
Pictured Above: Wallet Multi-Tool, available on it's own and in the EDC Kit.
EDC Essentials:
Everyday Carry means you are prepared to manage the problems that come up throughout your everyday, so the essentials might be different for women.  You're going to the gym after work and your hair tie breaks, a wardrobe malfunction midday, or even a broken nail … you need some essentials like hair ties, safety pins, and nail files to help solve those problems.  Here are some essentials the ladies in the office helped me come up with to help solve some of those problems:
Nail file
Hair ties
Feminine products
Bobby pins
Safety pins
Hand lotion
Compact mirror

Tactical pen

Pepper spray

Small phone charger

Sewing kit

Bandages

Stain remover

Hair brush
This might also seem like a lot to carry, which is why I am so happy they have a small "Shemergency Kit" that has most of these essential items.  It's small but mighty!  These kits were designed for a bride and bridesmaids to be prepared the day of the wedding, should any last minute problems come up.  However, these things can happen any day, so why not put them in your EDC kit?!
Make it Yours
Remember, EDC is personal.  What you might feel is important to have with you everyday, could be different from someone else.  It also takes time to make the perfect everyday carry kit for yourself.  Try out new items, and if you find you never use them, take them out.  Or maybe you find yourself constantly looking for a specific item, add it to your everyday carry.
Pictured Above: Snapper Multi-Tool, comes in the EDC Kit.
Comment below with the items that are most important to have with you at all times.  My favorite is the Wallet Multi-Tool.  Fits nicely in my wallet and is always there for me when I need it … which is a lot!
- Bob Thingamabobs
Items featured in this post: