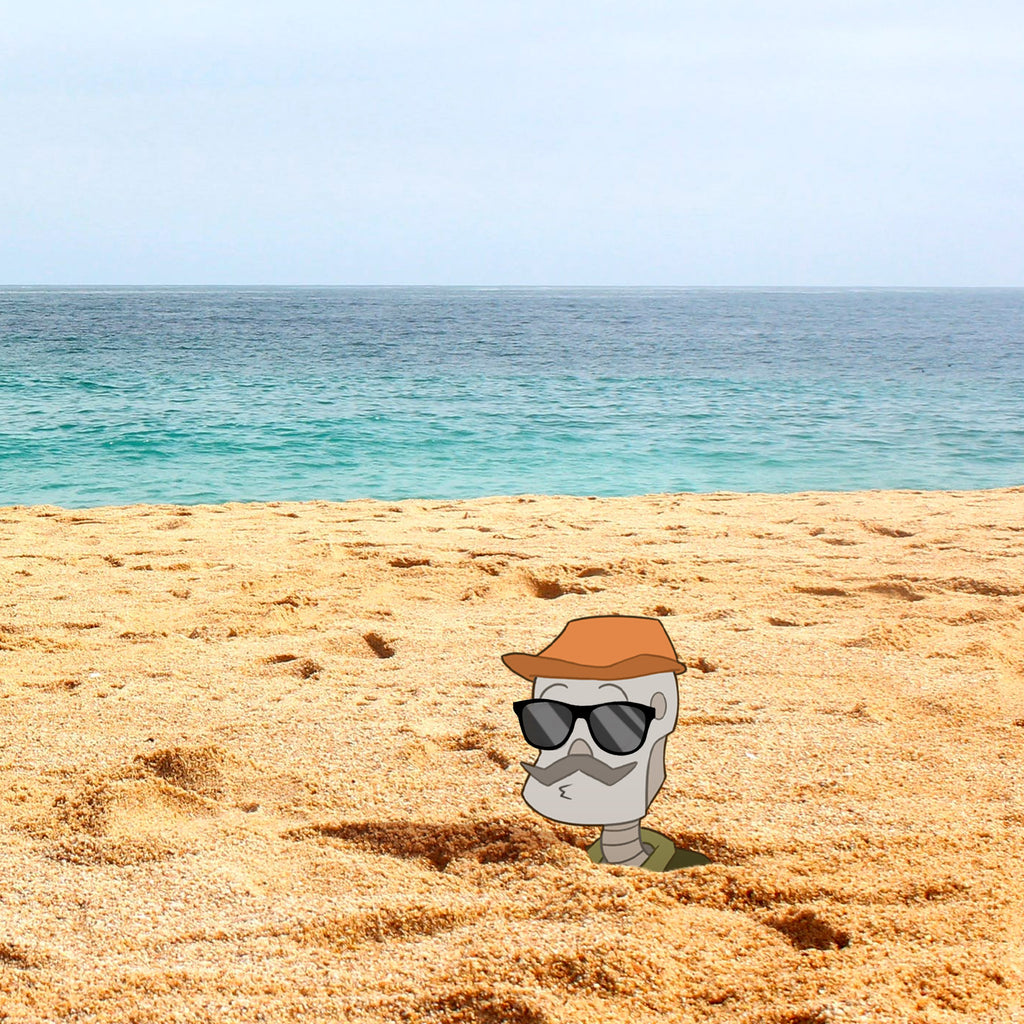 Have you ever been to the BEACH?! It's probably my favorite place to visit on this planet.  I mean seriously, the beach is the bee's knees!  Sometimes the sand really grinds my gears, but I have learned to love the feeling of sand between my bolts. I also learned how important it is to be prepared at the beach.  If you're heading to the beach for the first time, this is the ultimate essentials guide for a day at the beach.
The Basic Beach Essentials:
The Basic Beach Essentials, are the items you should already know to bring to the beach, but I'm going to cover them just in case.  These are some of the most important items you'll need for a good beach day.  Sunscreen is an absolute must, and don't forget to reapply!  You should reapply every couple of hours. Towels will not only help you dry off, they'll also claim your space and keep you from sitting directly on the sand. Make sure you bring plenty of water to keep yourself hydrated.  Being out in the sun all day is draining.  A good book and a large wide brimmed hat and sunglasses are the last of the basics you'll need.
The Pro Beach Essentials:
If you're a seasoned beach goer, then you probably know about a lot of the items in the Pro Beach Essentials.  These are items that make a day at the beach more comfortable and enjoyable. Bringing an umbrella or small tent for shade helps you to enjoy the smells and sounds of the beach without the harsh sun, great for kids but also adults! Wet Wipes can help keep areas clean and are also handy in a pinch (insert crab emoji).  Having a small cooler with you will allow you to keep your drinks and certain snacks cold throughout the day.  I love adding frozen bottles of water instead of ice, so I can drink them when they melt! If going in the water isn't your thing, bringing a beach chair, handheld fan, and a waterproof speaker will help you stay cool and entertained. Beach games are always a hit, I love playing spike ball or Frisbee when I'm at the beaches in San Diego ... and it's a great way to make new friends! A small first aid kit is also convenient to have around, you would be surprised by how easy it is to cut yourself on sea shells. The lifeguard stations will have everything you need, but it's nice to be able to take care of small cuts and scrapes yourself.
The Thingamabobs Beach Essentials:
My personally recommended items are things you might not have thought to bring before! Ziploc bags, the large gallon ones, have tons of uses at the beach.  You can store your phone and other items you don't want to get wet or sandy, put wet clothes in, and even use them as sand toys.  I am always finding new ways to use Ziploc bags at the beach.  A shower curtain is a must if you have small children.  They want to play in the water, but you might not be comfortable taking them in the waves of the ocean.  If you have a clear shower curtain, you can dig a small hole, put the curtain over it, and fill it with water to create a small pool in the sand.  Then your little one can enjoy the beach and the water without the waves. Another Thingamabobs beach hack is the fitted sheet!  Place a cooler or bag in each of the bunched corners to create a small play pin type of area.  This will help keep the sand out and prevent the corners of the sheet from getting buried in the sand like blankets do.  Use my handy phone mount to place on the side of an umbrella stand and create a hands-free screen for you or the kids.  This also helps keep your phone out of the sand. I carry a multi-tool everywhere I go, and the beach is no exception!  You never know when you will need a screwdriver, ruler, bottle opener, wrench, etc. … so make sure to bring one with you!
Leave in the Car Essentials:
Believe it or not, there are also some beach essentials you should bring, but leave in the car.  These are things you will need before or after the beach, and even on the way home.  Baby powder is a great way to get sand off your skin before you get in the car, and it smells great!  Sprinkle baby powder on your skin and easily wipe off stubborn sand. Extra clean towels are always nice to have when your beach towels are covered in sand, and extra clothes feel nice to change into for the ride home (after you put your wet bathing suits in a Ziploc bag).  You can bring a signal blocking key hider to hide a spare key, or leave your current key fob hidden on the car, so you don't risk losing it or damaging it while at the beach.  This is especially useful for surfers who don't like to leave anything on the sand while they're in the water, they can keep their key in or hidden on their car safely and securely.  Aloe is another feel good item after a long day in the sun.  Speaking of long day in the sun, you will probably be thirsty and hungry, so make sure to leave some water and snacks in the car for the ride home.
I hope you all have a great day at the beach this summer! Share your favorite beach "Thingamabobs" below or tag me on your social media pages.  I love finding new gadgets to bring to the beach!
- Bob Thingamabobs
Items featured in this post: